The following is a list of guides. They got a great experience of years of guiding, and they genuinely enjoy sharing what they know. Their skills and positive attitude ensure that our guests have a great experience during outdoor adventures. They have organized more than 700 expeditions in the Caucasus mountains. Guides which are below on list, together or separately had ascensions summits: Kazbek, Tetnuldi, Ushba, Chaukhi, Elbrus, Shkhelda, Shkhara, Khantengri, Peak Lenin, Peak Korzheneva, Peak Komunizm, Kilimanjaro, Mont Blanc, McKinley, Everest, Lhotse, Cho Oyu, Manaslu, Gasherbrum etc.. Many of them has passed the course of mountain guides, they have certificates, and they are members of GMGA (Georgian mountain guides association). International Guides Association (IFMGA/UIAGM) recognizes this course, and it is based on association standards. Teaching and all exams conducted by IFMGA/UIAGM specialists and trainers with participation and supervision. Georgia GMGA is an aspirant country for IFMGA/UIAGM, and soon in September of 2020, it will be a full-fledged member and every guide who has GMGA certificates automatically will become the guide of IFMGA/UIAGM. Nowadays in Georgia, exist 15 GMGA guides and 2 IFMGA guides. Unfortunately, in Georgia, we do not have legislative regulation, which forbids working as a mountain guide without certificates and licenses. Still, the legislative base has been prepared, and soon it comes into force. Therefore, it isn't effortless to choose professional mountain guide. We are trying to avoid unprofessional services to our guests, and from our side, we take responsibility for professionalism our guides and classification.

Shota
Living in Tbilisi. He started climbing in 1995. First worked as a guide in 2000. He studied at the school of mountaineers for 5 years. His alpine climbs are the Caucasus, Pamir, Tianshan, Alps and Alaska. Shota GMGA mountain guide and Ski Guide. Speaks: Georgian, English, Russian, Polish

George
Living in Tbilisi. He started climbing in 1995. First worked as a guide in 2000. He studied at the School of mountaineers for 5 years. His mountains are Caucasus and TianShan. George is a GMGA Alpine guide. Speaks: Georgian, English, Russian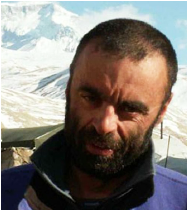 BIDZINA
He started climbing in 1980. Bidzina one of the famous mountain climber. About bidzina we can write really a lot but few page would not be enough for it. Hi was in first Georgian national group who was at top of Everest and he did a lot of ascents in Himalayas, Tienshan, Pamir, Pakistan, Alaska, Alps, Dolomites, Caucasus etc. He grow up few generations of climbers. Bidzina is GMGA Mountain guide and expert in GMGA School. Speaks: Georgian, German, Russian, English.

Irakli
Living in Tbilisi. He started climbing in 1988. First worked as a guide in 1993. He studied at the School of mountaineers for 5 years. His ascents mountains in Caucasus, Pamir, Tienshan region.Irakli is Guide for Mountain Climbing and Ski - tur..Speaks: Georgian, English, Russian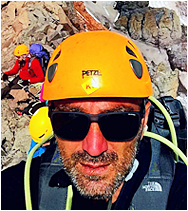 GEORGE
Living in Tbilisi. He started climbing in 1998. First worked as a guide in 2002. He studied at the School of mountaineers for 5 years. His ascents mountains is Caucasus Region. and Alps. George is Mountain guide. Speaks: Georgian, English, Russian

Irakli
He started climbing in 1997. First worked as a guide in 2002. He studied at the School of mountaineers for 5 years. His ascents mountains are Caucasus and Tienshan.Irakli is Guide for Mountain Climbing and Trekking.Speaks: Georgian and Russian

Baqari
Living in Borjomi. He started climbing in 2003. First worked as a guide in 2010. He studied at the School of mountaineers for 5 years. His ascents mountains is Caucasus, Region .Baqar is Guide for Mountain Climbing and Ski - tur.Speaks: Georgian, English, Russian

Gela
Living in Tbilisi. He started climbing in 1982. First worked as a guide in 1990. He studied at the School of mountaineers for 5 years. His ascents mountains are Caucasus, Tienshan, Pamir, Alps, Alaska, yosemite, Dolomites, himalayasGela is Guide for Mountain Climbing. Speaks: Georgian, Russian

Natalia
Living in Moscow. She started climbing in 2005. First worked as a guide in 2012. She studied at the School of mountaineers for 5 years. Her ascents mountains are Caucasus, Alps Natalia is Guide for Mountain Climbing, Trekking.Speaks: Russian, English

Goga
Living in Tbilisi. He started climbing in 1995. First worked as a guide in 2000. He studied at the School of mountaineers for 5 years. His ascents mountains are Caucasus, Pamir, Tianshan Goga is Guide for Mountain Climbing, Trekking.Speaks: Georgian, English, Russian